Bandai Namco Entertainment Asia is pleased to announce information on PAC-MAN WORLD Re-PAC's actions and boss battles!
PAC-MAN action in all its variety!
Rescue his kidnapped family using actions unique to PAC-MAN WORLD!
PAC-Dot Attack: You can attack the enemy by throwing the dots you get on the stage!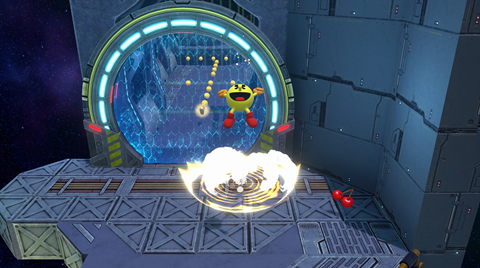 Butt Bounce: Jump and dive attack! In addition to attacking enemies, you can also open treasure chests and press switches.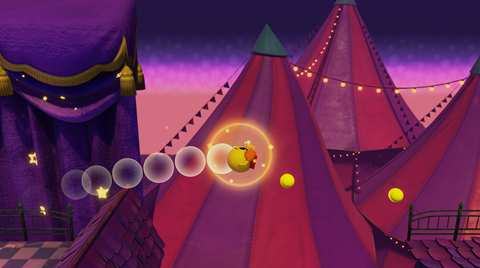 Rev Roll: You can also climb slopes and run into enemies to defeat them.
Bomb Attack: You can attack a wide area by consuming 5 pack dots.
Bomb Dot: When you get a Bomb Dot, you can annihilate all the enemies on the screen.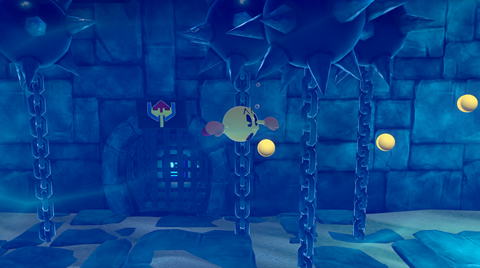 Swim: You can dive and swim in water.
Metal PAC-MAN: You become invincible for a certain period and can walk on the bottom of water.
Hang in Mid-Air: He can extend the time he floats in the air in a jump.
MEGA PAC-MAN: If you eat a Power Pellet, you can become huge and attack ghosts.
Check out the different Areas and Boss Battles
Boss Battle: Windbag
The battle consists of two parts: the first half, which you escape from the great sailboat Windbag, who is chasing you while shelling you, and the second half in which you confront him. Bounce off the cannonballs at the right moment and attack!
Boss Battle: Anubis
After ducking through the traps and dodging the chase, you'll face off in the temple! Turn the dash table and attack when Anubis' arms open!
Boss Battle: King Galaxian
This is a shooting stage where you pilot a spaceship into the home base of Galaxian's army. Dive through the Galaxian hordes and defeat King Galaxian!
Boss Battle: Clown Racers
At the end of the Funhouse, a race showdown with the boss clowns awaits you. Beat the Clown Racers to the finish line and win first place!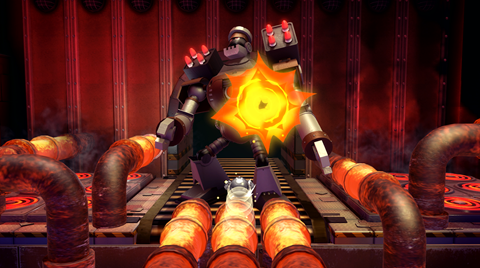 Boss Battle: Krome Keeper
Face off against the scientific robots of the Ghosts! Turn into Metal Pac-Man,and you can attack from up close on the scalding hot pipe!
EASY MODE makes it easier to play!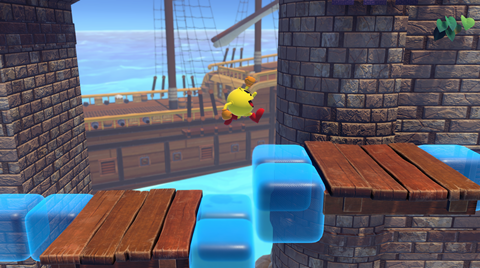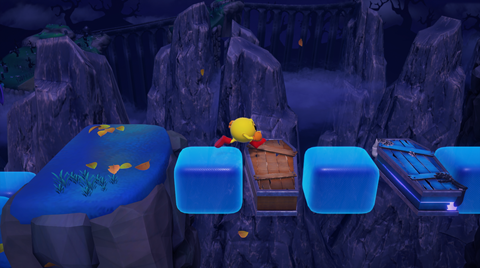 In the newly added "Easy Mode," "Easy Blocks" are placed at the drop points of the stage and the "Hanging in Mid-Air" jump can be used for a longer period, allowing first-time players and those who are not confident in their action skills to play with ease.
Watch the uncut in-game Opening Movie
It is just before PAC-MAN's birthday party. The PAC-Family is kidnapped by ghosts in a plot hatched by the evil robot Toc-Man. In order to rescue his kidnapped family, PAC-MAN explores six mysterious worlds on Ghost Island and faces all kinds of enemies.
Lastly, PAC-MAN WORLD Re-PAC is now available for Pre-Order on
Bandai Namco Entertainment Asia's e-store
Pre-order the physical copy of the game on Nintendo Switch, PS5 or PS4 on Bandai Namco Entertainment's e-store here.
For more information on PAC-MAN WORLD Re-PAC and other products from Bandai Namco Entertainment Asia, please visit our website or follow us on Facebook, Instagram, Twitter and YouTube. 
*This title was developed based on the 1999 PlayStation® title, Pac-Man World: 20th Anniversary. Some specifications have been changed.
*Screenshots are from an in-development version and may differ from the final product.
*"PlayStation", the PS5 logo and the PS4 logo are registered trademarks or trademarks of Sony Interactive Entertainment Inc.
*Nintendo Switch™ is a trademark of Nintendo.
*Steam® and the Steam logo are trademarks and/or registered trademarks of Valve Corporation in the U.S. and/or other countries.
*All information is accurate as of the date of this release. Content is subject to change without prior notice. Thank you for your understanding.
*Xbox Series X|S/Xbox One will support Smart Delivery.
Title Information
Title: PAC-MAN WORLD Re-PAC
Release Date: 25 August 2022 on the Nintendo Switch™, PlayStation®5, PlayStation®4, Xbox Series X|S, Xbox One
26 August 2022 on STEAM®
Platforms: Nintendo Switch ™, PlayStation®5, PlayStation®4, Xbox Series X|S, Xbox One, STEAM®
No. of Players: 1
Copyright: PAC-MAN WORLD™ Re-PAC & ©Bandai Namco Entertainment Inc.
PAC-MAN WORLD™ Re-PAC & ©Bandai Namco Entertainment Inc.
About Bandai Namco Entertainment Asia Pte Ltd.
Bandai Namco Entertainment Asia Pte Ltd. part of BANDAI NAMCO Holdings Inc., is a leading global publisher and developer of interactive content. The company is known for creating and publishing many of the industry's top video game franchises, including PAC-MAN®, TEKKEN®, SOULCALIBUR®, NARUTO®, NARUTO SHIPPUDEN®, Dragon Ball®, GALAGA®, RIDGE RACER® and ACE COMBAT®. More information about the company and its products can be found at http://www.bandainamcoent.asia.
Nmia Gaming – Editor | Rein