Pre-existing Owners Are Able to Upgrade to Hideo Kojima's Definitive Edition For Only THB 319 / VND 186,000 / IDR 134,999 / MYR 42 / PHP 489.95 / SGD 13.9
CALABASAS, Calif. – March 30, 2022 – KOJIMA PRODUCTIONS and videogame publisher 505 Games proudly announce the release of the award-winning DEATH STRANDING DIRECTOR'S CUT for PC, Hideo Kojima's definitive vision of his critically-acclaimed and genre-defying epic. Available today via Steam and the Epic Games Store for PC, DEATH STRANDING DIRECTOR'S CUT expands upon the award-winning adventure with an array of new features, including extended storyline, new stealth missions, combat abilities, inventory, buildable structures, cosmetic options, and more.
Most notably, DEATH STRANDING DIRECTOR'S CUT now includes the 'Ruined Factory' location, a treacherous underground compound packed with fresh dangers, plus Sam now has a wealth of new delivery assists, from cargo catapults and ramps to a stabiliser function. Melee combat has been amped up with enhanced moves such as the drop kick, whilst the new Maser Gun pacifies enemies with electricity. Finding the perfect weapon loadout is now achievable thanks to the new firing range location, whilst vehicles can be raced on the new racetrack minigame. Protagonist Sam Bridges can even ride Buddy Bots to traverse the wastelands with greater ease.
Coming soon, DEATH STRANDING DIRECTOR'S CUT will also support Intel's new Xe Super Sampling (XeSS) graphics technology for an unparalleled experience on PC. XeSS uses machine learning for elevated game performance and enables players to explore the unique environment of DEATH STRANDING DIRECTOR'S CUT in staggering graphical detail.
Existing owners of DEATH STRANDING can upgrade to the DEATH STRANDING DIRECTOR'S CUT for the price of THB 319 / VND 186,000 / IDR 134,999 / MYR 42 / PHP 489.95 / SGD 13.9 by installing the current game and purchasing through the in-game storefront. They will also be able to seamlessly transfer across any previous game saves. Those discovering the DEATH STRANDING DIRECTOR'S CUT for the first time can buy Kojima's ultimate version for THB 1,289 / VND 699,000 / 539,999 / MYR 159 / PHP 1855.95 / SGD 53.99.
For more information about DEATH STRANDING DIRECTOR'S CUT on PC, please visit the PC DEATH STRANDING website: https://505games.com/games/death-stranding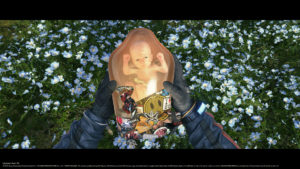 About 505 Games
505 Games, a Digital Bros' subsidiary, is a global publisher focused on offering a broad selection of video games for players of all ages and skill levels. The company publishes and distributes premium and free-to-play games on console and PC platforms as well as mobile devices.
 Publishing highlights include DEATH STRANDING (PC), Control, Assetto Corsa Competizione, Ghostrunner, Gems of War, Journey to the Savage Planet, Bloodstained: Ritual of the Night, and Brothers: A Tale of Two Sons.
505 Games has offices in the United States, United Kingdom, France, Germany, Italy, Spain, Australia, China and Japan. For more information on 505 Games and its products please visit 505games.com.
About HIDEO KOJIMA / KOJIMA PRODUCTIONS
Hideo Kojima is a world-renowned game creator and auteur known for pushing the boundaries of the video game medium. Widely considered the father of the stealth genre, he is also credited with innovating both story-telling and cinematic presentation in video games at large. On December 16th, 2015 Hideo Kojima established his own studio called KOJIMA PRODUCTIONS, under the banner of "From Sapiens to Ludens."On November 8th, 2019, the studio released its first title, DEATH STRANDING, starring Norman Reedus, Mads Mikkelsen, and Léa Seydoux, for PlayStation® 4 and is now available for PC. Since its release, DEATH STRANDING has received numerous game awards and achieved worldwide acclaim. In 2020, Hideo Kojima received the BAFTA® Fellowship, the highest accolade bestowed by BAFTA® upon an individual in recognition of exceptional contribution to film, games or television. For more information, please visit: www.kojimaproductions.jp.
©2021-2022 Sony Interactive Entertainment Inc. / KOJIMA PRODUCTIONS Co., Ltd. / HIDEO KOJIMA. PC version published by 505 Games. 505 Games and the 505 Games logo are trademarks or registered trademarks of 505 Games SpA or its affiliates in the U.S. and/or other countries. DEATH STRANDING is a trademark of Sony Interactive Entertainment LLC. © 2020 Valve Corporation. All rights reserved. Valve, the Valve logo, Half-Life, the Half-Life logo, Portal, the Portal logo, and the Lambda logo are trademarks and/or registered trademarks of Valve Corporation in the U.S. and/or other countries.
Nmia Gaming – Editor Nmia
We are a team of enthusiastic gamers, who provide the latest news on any games.