The game's first trailer has also been unveiled!
SINGAPORE – 29 March 2022 – BANDAI NAMCO Entertainment Asia is proud to announce the upcoming release of ONE PIECE ODYSSEY on PlayStation🄬4, PlayStation🄬5, Xbox SeriesX|S, and Steam🄬 in 2022!
This will be to celebrate the beloved ONE PIECE manga and anime, as well as to commemorate the 25th anniversary of its serialisation in the "Shonen Jump" magazine. We are also delighted to unveil the very first trailer for this new title today!
A Brand-New RPG Project Offering Players
the Opportunity to Experience an Adventure in the ONE PIECE World
Comment from Eiichiro Oda, creator of the original ONE PIECE manga
ONE PIECE ODYSSEY has been developed in response to the frequent requests received from fans, to create an RPG that allows players to experience an adventure in the world of ONE PIECE. Developed in line with this, where it has been positioned at the heart of the game concept and crafted over a period of several years, the first details of this brand-new project are finally ready to be revealed!
To fully realise the world of ONE PIECE, we enlisted the help of the manga's original creator, Eiichiro Oda, to create the designs for the characters and animals that inhabit this universe.
■ First ONE PIECE ODYSSEY trailer:
It's time – to travel to the heart of our memories.
In the midst of their latest ocean voyage, the Straw Hat Pirates have seen their ship swallowed by a mighty storm.
Shipwrecked, the crew members wash ashore on a mysterious island, blessed with natural gifts, and protected by a ring of storms all around.
Separated from their friends, and with the Thousand Sunny sinking into the depths…
Luffy and the others must embark on a new adventure to escape from this storm-buffeted island!
But lying in wait are the ruthless forces of nature,
terrible enemies, and…!
Artwork Samples Released on the Game's Official Website!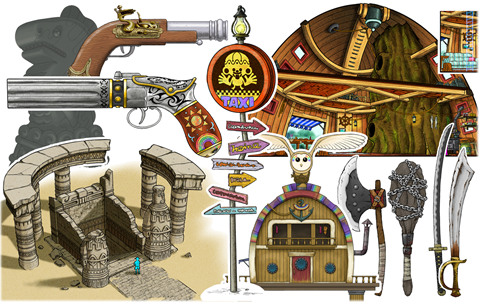 Artwork provided by Eiichiro Oda, as well as other examples of in-game artwork, are now available to view on the game's official website!
The setting for this title, developed around the theme of an RPG which allows players to experience the world of ONE PIECE, has been created based on this artwork.
Please stay tuned for more releases in future, including details of the new character, Adio Suerte.
■ ONE PIECE ODYSSEY official website: https://opflag.bn-ent.net/
*This page is provided in Japanese.
ONE PIECE Information Program
 "ONE PIECE NEWS COO ONLINE" Archive Available for Viewing!
The information program "ONE PIECE NEWS", where this title was first announced on March 28th, has now been archived and made available to view!
The program showcases a wide range of the latest information about the original ONE PIECE manga and anime, and also features an interview with the producer of ONE PIECE ODYSSEY, Check it out now!
■ "ONE PIECE NEWS COO ONLINE" available to view:
Title Information
Title: ONE PIECE ODYSSEY
Genre: RPG
Release Date: 2022
Platforms: PlayStation🄬4/PlayStation🄬5/Xbox SeriesX|S/Steam🄬
Copyrights: ©EIICHIRO ODA/SHUEISHA, TOEI ANIMATION
©BANDAI NAMCO Entertainment Inc.
*Steam and the Steam logo are trademarks and/or registered trademarks of Valve Corporation in the U.S. and/or other countries.
*"PlayStation", "PS5", and "PS4" are registered trademarks or trademarks of Sony Interactive Entertainment Inc.
*Screenshots are from an in-development version of the game. *Screenshots are from the PlayStation®4 version of the title.
*All information is accurate as of the date of this release. Please be aware that content is subject to change without notice. 
*Please ensure that the copyright symbol is correctly displayed as a C within a circle.
All other trademarks are properties of their respective owners.
About BANDAI NAMCO Entertainment Asia Pte Ltd.
BANDAI NAMCO Entertainment Asia Pte Ltd. part of BANDAI NAMCO Holdings Inc., is a leading global publisher and developer of interactive content. The company is known for creating and publishing many of the industry's top video game franchises, including PAC-MAN®, TEKKEN®, SOULCALIBUR®, NARUTO®, NARUTO SHIPPUDEN®, Dragon Ball®, GALAGA®, RIDGE RACER® and ACE COMBAT®. More information about the company and its products can be found at http://www.bandainamcoent.asia.