SEGA is pleased to announce that ATLUS's new tactical RPG, Persona 5  Tactica, was released on Xbox Game Pass, Xbox Series X|S, Xbox One, Windows, PlayStation®4,  PlayStation®5, Nintendo Switch™, and Steam today. 
Persona 5 is a picaresque coming-of-age RPG that follows a group of high school students who lead  double lives. By night, they operate as the Phantom Thieves, an organization that seeks out and reforms  corrupt adults. The game has become a hit with fans worldwide, spawning a franchise that has sold over  9 million copies. Persona 5 Tactica is the latest installment in the series. With familiar battle features like  One More and All-Out Attacks making a return, enjoy engaging in coordinated, strategic combat in this  tactical RPG! 
After saving Joker and his friends, a mysterious girl, Erina the Rebel, offers them a unique proposition.  Join the Phantom Thieves as they set out to usher in a revolution! 
Official Website:https://asia.sega.com/p5t/en/ 
■ Packed With Familiar Features From Persona 5, Build Your Favorite Three-person Team and  Lead Them to Victory! 
In this tactical RPG, players form a party of three using Joker, the rest of the Phantom Thieves, and  newcomer Erina. Positioning and coordinating your team are crucial to the game's exciting new combat system.
While the game features a new combat system, players can still enjoy the unique combat of the  Persona 5 series, whether shooting from behind a wall, getting up close and personal, or of course  summoning a Persona. And if an attack downs an enemy, a One More attack offers the chance for a  follow-up. 
The new combat system features a new take on the series' mainstay All-Out Attacks. Surround a  downed enemy with all three members of your party to unleash a powerful Triple Threat attack. 
■ The Velvet Room in Tactica Will Allow You to Equip Sub-personas and Forge Weapons
The Velvet Room in this game is occupied by a blacksmith-style Lavenza! 
This rendition of the room resembles a refinery from the Industrial Revolution. Here, you can perform  fusions with familiar Personas from the series!
In Persona 5 Tactica, Sub-Personas can be equipped by members of the Phantom Thieves. When a  character has a Sub-Persona equipped, their stats will increase, and they'll be able to use the  Persona's Unique Skills and Inherited Skills. 
Personas possess skills such as Dia and Zio that cost SP to activate as well as support skills that  activate passively, so experiment with different Personas to find the ideal combination for each  character! 
You can now also fuse two Personas together to create weapons. While each weapon will require a  specific Persona combination, they can be given affinities and have better stats than the weapons  you can find at a shop. 
■ Join Forces With New Characters to Usher in a Revolution! 
In Persona 5 Tactica, the Phantom Thieves of Hearts unite with two fresh new faces, Erina and  Toshiro Kasukabe, to face a wide range of unique stages, enemies, and contraptions. Together, they  embark on a mission to spark a revolution in uncharted, new realms!
New Characters: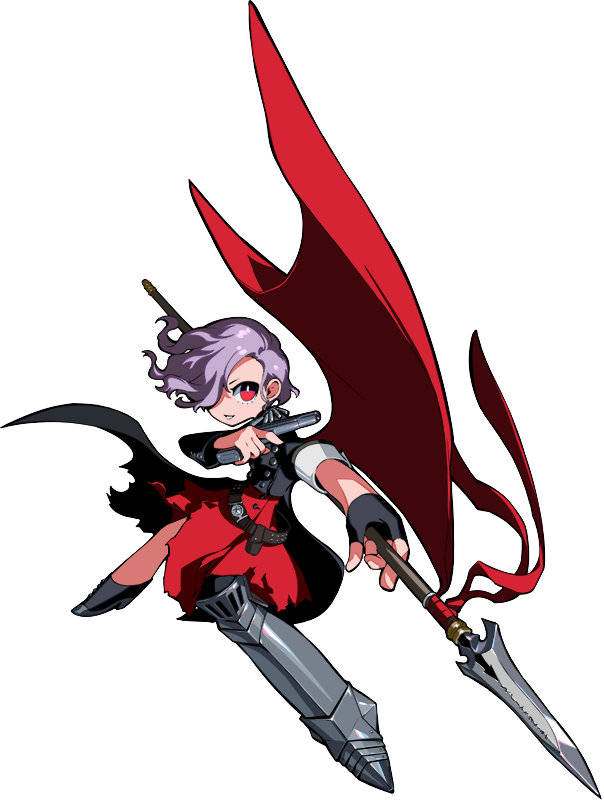 ・ Erina (Voice: Rie Takahashi) 
Erina is a new character who saves the Phantom Thieves from a life-or-death situation. 
She's less suited to meticulously thinking things through than she is to recklessly charging in to save those who are suffering. However, it's this drive that  has earned the trust of her followers in the Rebel Corps. 
She enlists the Phantom Thieves in her efforts to revolt against the oppressive rulers of her city. 
・ Toshinori Kasukabe (voiced by Tomoaki Maeno) 
A young member of parliament who was rumored to become the next prime minister. 
Toshinori is rescued by the Phantom Thieves after becoming trapped in the bizarre realm, and they agree to work together. 
A consummate politician, Toshinori is persuasive and resourceful, capable of seeing the bigger picture. However, because he is absolutely terrified of fighting and getting  
hurt, he tends to prioritize safety above all else. 
The Kingdoms: 
・ Marie's Kingdom 
A realm ruled by the tyrant Marie and her Legionnaires.
・ Yoshiki's Kingdom 
A realm under constant surveillance that is governed by the despotic general Yoshiki.
■Get Region-Only Limited Edition and Physical Edition Purchase Bonus Before It Runs Out! 
Dive deeper into the enchanting world of Persona 5 Tactica with our Limited Edition, available only in  Southeast Asia. Elevate your gaming experience with unique, region-specific collectibles and enjoy  an additional purchase bonus when opting for the physical edition. Immerse yourself fully in the  Persona 5 universe, not just through our latest SRPG, but also with a collection of original and stylish  merchandise designed for your everyday use! 
Southeast Asia Limited Edition 
・Included Items: Full game, Stainless steel tumbler, Metal pin, Tote bag.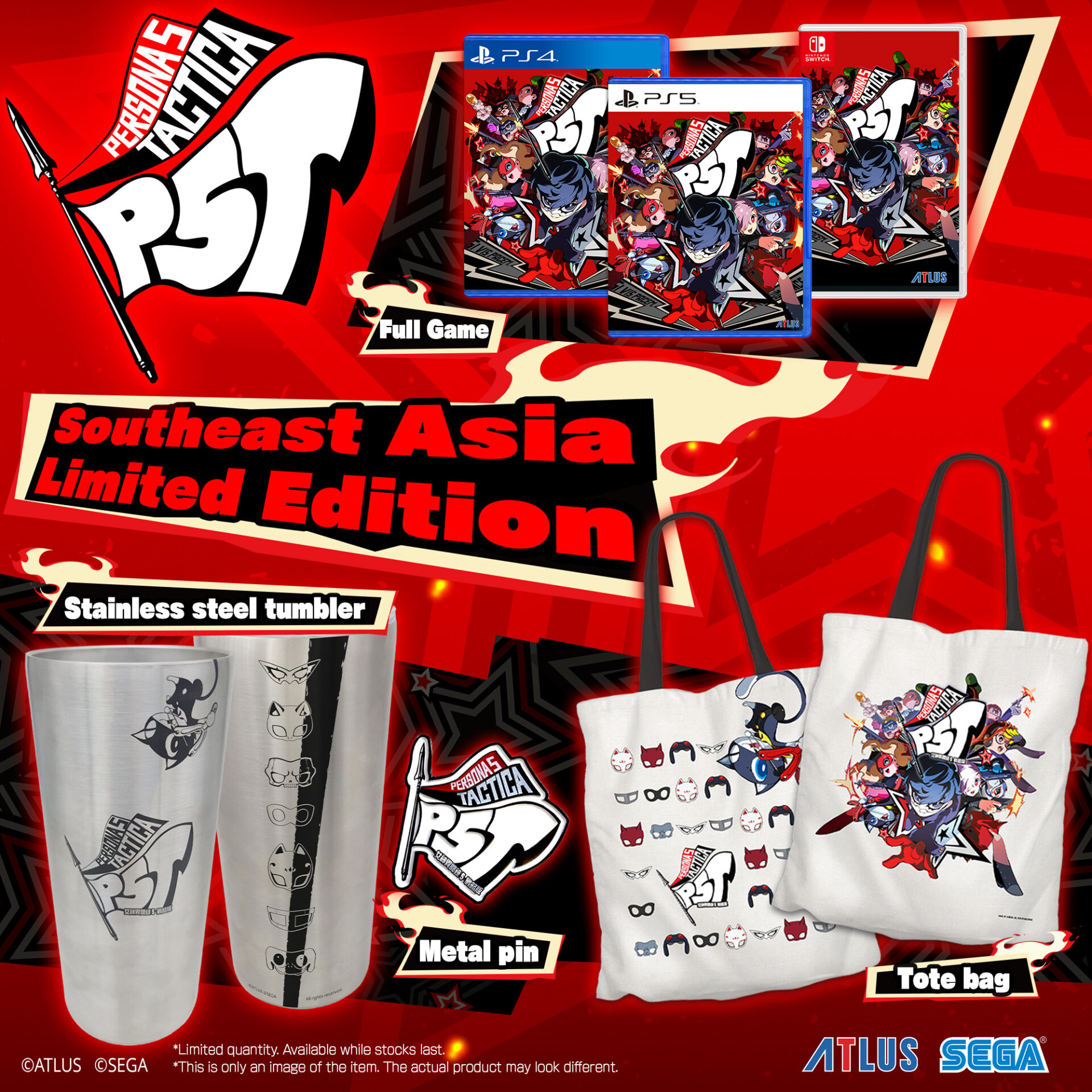 *This is only an image of the item. The actual product may look different. 
*Limited quantity. Available while stocks last. 
Southeast Asia Physical Edition Purchase Bonus 
・Rally Towel
*This is only an image of the item. The actual product may look different. 
*Limited quantity. Available while stocks last. 
■Launch Giveaway Campaign Begins Now! 
To mark the launch of Persona 5 Tactica, we're thrilled to announce a fantastic giveaway! Join the  fun and get a chance to score a brand-new Nintendo Switch OLED. 
But wait, there's more! For every 500 shares of this post, we'll throw in additional prizes to crank up  the excitement. Don't miss out! 
Prize 
Nintendo Switch OLED 
500 shares: 1 set of P5T character standees 
1000 shares: 2 sets featuring a P5T rubber key and Morgana cushion 
Campaign Period 
Nov 17 (Fri) – Nov 30 (Thu)
How to Participate 
1.Like the ATLUS SEA Facebook page 
2.Tag 1 friend who also loves the Persona 5 series 
3.Like and share the following campaign post: 
https://www.facebook.com/Atlus.asia/posts/370197845578209 
■ The "Repaint Your Heart Challenge Pack" DLC Will Be Available From Launch Day! 
Goro Akechi and Kasumi Yoshizawa will be making their return in the Repaint Your Heart Challenge  Pack*1! Unveil the truth behind the Arsène mural that suddenly appears in Tokyo and the mystery  behind the elusive street artist Guernica! New rules, new stages, and new epic enemies await you in  this action-packed adventure! 
*1Repaint Your Heart is included in the Persona 5 Tactica: Digital Deluxe Edition. 
You can also get it by purchasing the separately sold Persona 5 Tactica: DLC All in One. 
*2All footage shown is from the Japanese edition of the game which is still under development.  English support available on release.
| | |
| --- | --- |
| Title  | Persona 5 Tactica |
| Release Date  | Released (11/17/2023,Fri) |
| Platform  | Xbox Game Pass / Xbox Series X|S / Xbox One / Windows PlayStation®5 / PlayStation®4 / Nintendo Switch™ / Steam * Digital versions only for Xbox / Windows / Steam  |
| Official Website  | |
| Copyright  | ©ATLUS ©SEGA All rights reserved. |