MSI, a world leading brand in gaming, content creation, and business & productivity, today announced that  it has been named a CES® 2024 Innovation Awards Honoree earning a total of six honoree awards for their  monitors and components. Four of the honoree awards have been announced, with an additional two to  be released on January 7, 2024. 
This year's CES Innovation Awards program received a record number of over 3000 submissions. The  announcement was made ahead of CES 2024, the world's most influential technology event, happening Jan. 9-12 in Las Vegas, NV. 
The CES Innovation Awards program, owned and produced by the Consumer Technology Association  (CTA)®, is an annual competition honoring outstanding design and engineering in 29 consumer technology  product categories. Those with the highest rating receive the "Best of Innovation" distinction. An elite panel  of industry expert judges, including members of the media, designers, engineers and more, reviewed  submissions based on innovation, engineering and functionality, aesthetic and design. 
MSI won Honoree Awards in categories for gaming, artificial intelligence, computer hardware &  components, and computer peripherals and accessories. 
"MSI is honored to be recognized by CES Innovation Honoree Awards again. MSI is not only a leading brand  of high-end computers, but possesses the DNA to innovate and make a breakthrough. This year, we have  built our products with AI to provide new products with high efficiency and aesthetics for our users, and they  will get a great product experience," said Sam Chern, MSI Vice President of Marketing.
MSI products awarded include: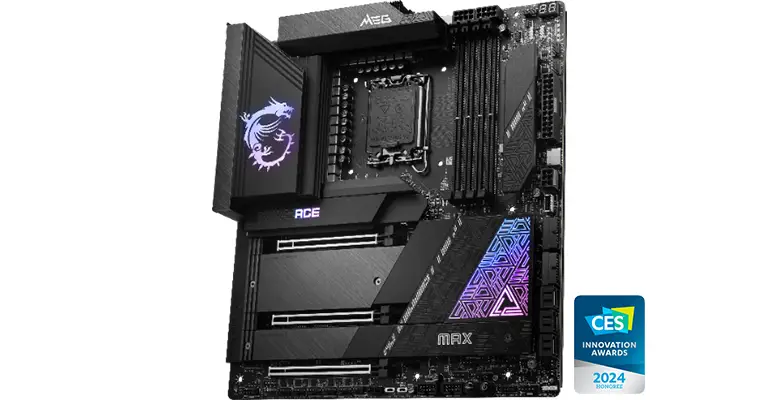 MEG Z790 ACE MAX: Honored under "Computer Hardware & Components" category
MAG CORELIQUID E Series: Honored under "Computer Hardware & Components" category
MPG 491CQP QD-OLED : Honored under two different categories,  
" Gaming & eSports" and " Computer Peripherals & Accessories" 
The CES 2024 Innovation Awards honorees, including product descriptions and photos, can be found at
CES.tech/innovation. More will be revealed in January. Many honorees will showcase their winning products  in the Innovation Awards Showcase at CES 2024. 
CES 2024, the most powerful tech event in the world, will be held in Las Vegas on January 9-12, 2024. Over  the years, CES has attracted thousands of manufacturers around the world and experts from various fields to  participate, creating opportunities for the global industry to develop new businesses and meet new partners.  At the event, major manufacturers will showcase the latest consumer technology hardware and technical  capabilities, providing visitors with the latest trends in future technology. 
MSI: https://www.msi.com 
MSI YouTube: https://www.youtube.com/user/MSIGamingGlobal 
MSI Facebook:https://www.facebook.com/MSIGaming 
MSI Instagram: https://www.instagram.com/MSIGaming 
MSI Twitter: https://twitter.com/MSITweets 
Subscribe to MSI RSS Feeds via https://www.msi.com/rss for real-time news and more product info. 
About MSI 
MSI is a world leader in gaming, content creation, business & productivity, and AIoT solutions. Bolstered by its cutting edge R&D capabilities and customer-driven innovation, MSI has a wide-ranging global presence spanning over 120  countries. Its comprehensive lineup of laptops, graphics cards, monitors, motherboards, desktops, peripherals, servers,  IPCs, robotic appliances, and vehicle infotainment, and telematics systems are globally acclaimed. Committed to  advancing user experiences through the finest product quality, intuitive user interface, and design aesthetics, MSI is a  leading brand that shapes the future of technology. For more product information, please go to https://www.msi.com.