Get ready to beat the drum in rhythm with Don-Chan! Join an amazing musical festival, alone or with friends!
SINGAPORE – 10 February 2022 – BANDAI NAMCO Entertainment Asia is pleased to announce that "Taiko no Tatsujin: Rhythm Festival" is coming to Nintendo Switch system in 2022.
This title is the latest in the Nintendo Switch series after a four-year hiatus, and supports the popular "Sharing Joy-Con" and "Shaking" performance features of the previous title, "Taiko no Tatsujin: Drum n Fun". A new character, Kumo Kyun, has been added to the game, and the game has evolved to include online battles, a party mode, and a music subscription service.
★Strive to become a Taiko master along with brand-new character Kumo Kyun!
Set in Omiko City where Taiko world is packed,
You will strive to become a Taiko Master along with your buddy, Kumo Kyun!
★76 songs in total! Have fun playing your favorite tunes by yourself and with others!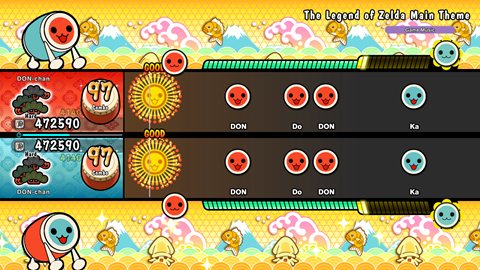 Have fun playing Japanese Taiko with your favorite songs!
There are four difficulty levels to choose from: "Easy," "Normal," "Difficult," and "Oni" to match your skill level.
There are 76 songs in the collection, including the latest songs such as "Gurenge", "Feel Special", and "Racing into the Night"!
You can play the game in a variety of play styles, such as "Portable Mode," "TV Mode," "Sharing Joy-Con," "Shaking," "Touch Play," and "Tatakon"
Improvement Support (Taiko Play)
★Kumo kun's passionate guidance will help you improve your taiko skills!
This title has practice mode called "Improvement Support"!
Take advantage of this mode to replay sections of songs as many times as you'd like.
★Play online against players and friends from around the world!
The "Online Ranked Matches" allows you to match up with other players who are close to your level, so you can always enjoy a heated battle!
Win Taiko battles with players from all over the world and move up in rank!
In Online Room Match, you can customize the rules and play with anybody!
★ A new party mode is also available for everyone to play together!
There is also party mode to play with your friends!
In "Don-chan Band," up to four players take charge of different tones and play together to make a successful live performance.
And in the "Great Drum Toy War," you build your own deck of toys and battle it out.
Paid Subscription Service
★First in the series! This new title offers a paid music subscription service, "Taiko Music Pass" to expand your play!
 A paid music subscription service called "Taiko Music Pass" will be available for this title.
You can play over 500 additional songs from a variety of genres, and the music lineup will be updated monthly. Details will be announced at a later date.
★◆Get costumes and name plates for the customize
You can get "Don Coins" by playing various modes. Use the coins to get items such as costumes and name plates from the in-game store! Customize as you like!
Title Information
Title: Taiko no Tatsujin: Rhythm Festival
Platform: Nintendo Switch
Release date: 2022
Number of players: 1-4 (1-4 for Don-chan band/ 1-2 for Taiko mode and Great Drum Toy War); Online:1~2
Copyright: Taiko no Tatsujin™: The Drum Master! & ©BANDAI NAMCO Entertainment Inc.