Bandai Namco Entertainment Asia is pleased to announce the official release of Ultra Kaiju Monster Rancher on the Nintendo Switch™, with a launch date planned for later in 2022.
The title is a collaboration between the Ultra Kaiju, which appears in the legendary Ultraman action programs, and the monster-breeding simulation title, Monster Rancher, which is celebrating its 25th anniversary in 2022.
How would you like to raise your very own Ultra Kaiju? 
What is Ultra Kaiju Monster Rancher about?
Using the game system of Monster Rancher and Monster Rancher 2 as its base, the title is an Ultra Kaiju breeding simulation game, which allows you to raise your very own Ultra Kaiju – be it an Alien Baltan, Zetton, or Gomora.
For more information, visit the official website: https://ultrakaiju-mf.bn-ent.net*
*This site is provided in Japanese.
What is Monster Rancher about? 
Monster Rancher is a series of monster-breeding simulation games, first released in 1997. It remains a very popular title that has gained the support of many players, given its novelty of having monsters being born via music CDs as well as its fun battles.
*The above picture represents the Japanese version of Monster Rancher, that is titled Monster Farm instead.
Ultra Kaiju meets Monster Rancher 
Raise your own Ultra Kaiju by selecting from a range of actions each week, including feeding them, assigning them training drills, sending them on an Errantry with rival Kaiju and going on adventures!
At the ranch where you raise your Ultra Kaiju, you will have the opportunity to observe the behaviour of the Ultra Kaiju up close – an approach that the original works do not allow. In tournaments, your Kaiju will face off against rivals in battles every bit as intense as in the movies.
Kaiju face each other in spectacular battles! 
Once you have raised your Partner Kaiju, it's time to enter them in a tournament and battle powerful rivals!
Battles in this title are based on the Monster Rancher system. The attacks available will depend on the distance between your Kaiju and its opponent. Use Drills to raise your Kaiju's stats and learn new moves through Errantry to help you dominate the battle arena!
Battles are action-packed and as spectacular as the movies – a far cry from your Kaiju's relaxed behavior on the ranch.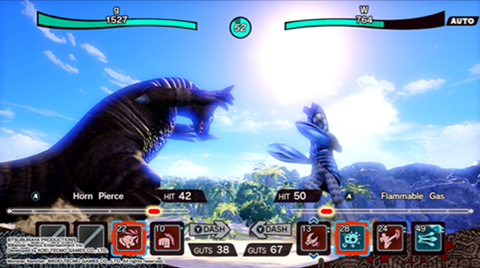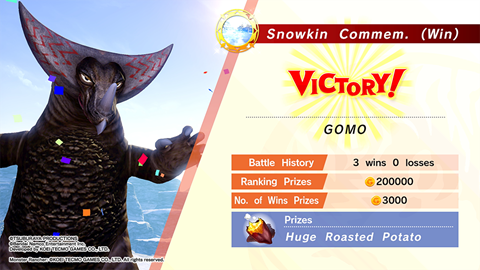 With over 200 Ultra Kaiju appearing in the title, you'll definitely discover some you've never seen before!
This title also includes the ability to combine two different Ultra Kaiju to create a new one. The title features over 200 Kaiju, especially when you can create Kaiju such as a Zetton-patterned Gomora.
Create familiar yet somehow new Kaiju and see what other fantastical combinations you can create!
How to create new Partner Kaiju 
The quest to find your Partner Kaiju in Ultra Kaiju Monster Rancher begins by using the Song Search function to play songs that will generate a new Ultra Kaiju. Ultra Kaiju can also be generated using NFC-enabled devices or items such as transport ID cards.
The game reads your ID card data using NFC and uses it to generate a Kaiju. Different data produces different Kaiju, so you will never know what you are going to get!
For more information on Ultra Kaiju Monster Rancher and other products from Bandai Namco Entertainment Asia, please visit our website or follow us on Facebook, Instagram, Twitter and YouTube. 
*All information is accurate as of the date of this release.
*Screenshots are from an in-development version of the title.
*Nintendo Switch and the Nintendo Switch logo are trademarks of Nintendo.
*YouTube is a trademark of Google LLC.
Title Information 
Title: Ultra Kaiju Monster Rancher
Release Date: 2022
Platforms: Nintendo Switch ™
No. of Players: 1-2
Copyright: ©TSUBURAYA PRODUCTIONS
©Bandai Namco Entertainment Inc.
Developed by KOEI TECMO GAMES CO., LTD.
Monster Rancher: ©KOEI TECMO GAMES CO., LTD. All rights reserved. 
Nmia Gaming – Editor | Rein