SINGAPORE – 19 April 2022 – A patch update for version 1.04 will be distributed for ELDEN RING™ to improve the stability of gameplay and to adjust balance. We apologise for the inconvenience, and we urge you to apply the latest update before you continue to enjoy playing the game.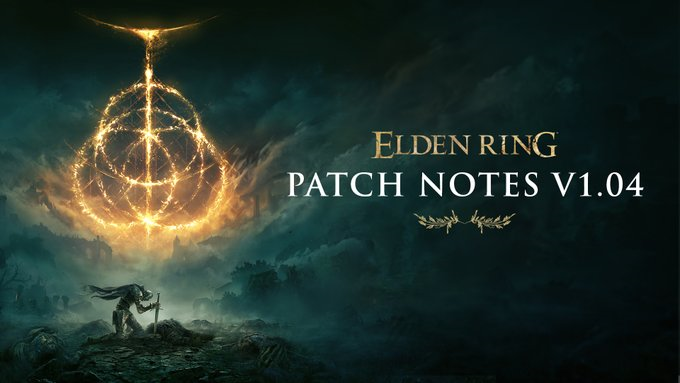 Targeted Platform: PlayStation 4 / PlayStation 5 / Xbox One / Xbox Series X|S / Steam
Major Changes Included in the Latest Update
Additional Elements Added
・Added an option to turn camera auto rotate function ON/OFF
・ Added some event phases for the NPC "Patches"
Balance adjustments
・Increased Colossal Swords/Colossal weapons attack speed and lowered their recovery time. Jump attack not included.
・Increased the two-handed attack damage of Colossal Swords/Colossal Weapons. Jump attack not included.
・Increased physical block rate and guard boost of the Colossal Sword, Colossal Weapons, Great Sword, Great Hammer, Great Axe, Great Spear, and Halberd weapon classes.
・Increased the damage of Grafted Blade Greatsword.
・Increased the damage of Devourer's Scepter.
・Decreased the scaling of status effect build-up from spells and incantations of Albinauric Staff and Dragon Communion Seal.
・Decreased the effect of Greatshield Talisman for weapons with high block rate.
・Shortened the length of the madness afflicted animation.
・Lowered the speed of decrease of the accumulation of the madness buildup.
・Slightly increased FP and Stamina growth rate at lower levels*
・Other enemy and weapon balance changes
*Players will need to perform any of the following actions for the changes to be reflected. This is required only once. New characters created after this update will not require this action.
・Level up
・Activate Godrick's Great Rune
・Re-equipping any equipment (armor, talisman) which grants bonus stat to either Strength, Dexterity, Vigor, Endurance, Intelligence, Faith or Arcane
We've also made some adjustments to Sorcery/Incantation, Weapon Skill and Bug Fixes.
For the full update, please refer to our website here.
The version number of this update shown at the lower right corner of the Title Screen will be as follows:
・ App Ver. 1.04
・ Regulation Ver. 1.04.1
Online play requires the player to apply this update.
We will continue to provide improvement update in the future so you can enjoy ELDEN RING more comfortably. Please stay tuned for more news.
For more information on ELDEN RING™ and other Bandai Namco Entertainment Asia products, please visit our website or follow us on Facebook, Instagram, Twitter and YouTube.
Game Information
Title: ELDEN RING
Platform: PS4, PS5, XB1, XB X|S, PC
Release Date: 25 February 2022
Genre: Action-RPG
Player: 1-4
Copyright: ELDEN RING™& ©Bandai Namco Entertainment Inc. / ©2022 FromSoftware, Inc.
All other trademarks are properties of their respective owners.
About Bandai Namco Entertainment Asia Pte Ltd.
Bandai Namco Entertainment Asia Pte Ltd. part of Bandai Namco Holdings Inc., is a leading global publisher and developer of interactive content. The company is known for creating and publishing many of the industry's top video game franchises, including PAC-MAN®, TEKKEN®, SOULCALIBUR®, NARUTO®, NARUTO SHIPPUDEN®, Dragon Ball®, GALAGA®, RIDGE RACER® and ACE COMBAT®. More information about the company and its products can be found at http://www.bandainamcoent.asia.
Nmia Gaming – Editor Nmia
We are a team of enthusiastic gamers, who provide the latest news on any games.