We are distributing an update for ELDEN RING™ to improve the stability of gameplay and to adjust balance.
Many changes have been made to Spells, Skills, Incantations, and Weapons to encourage more versatility in terms of gameplay.
Please note that online play requires the player to apply this update.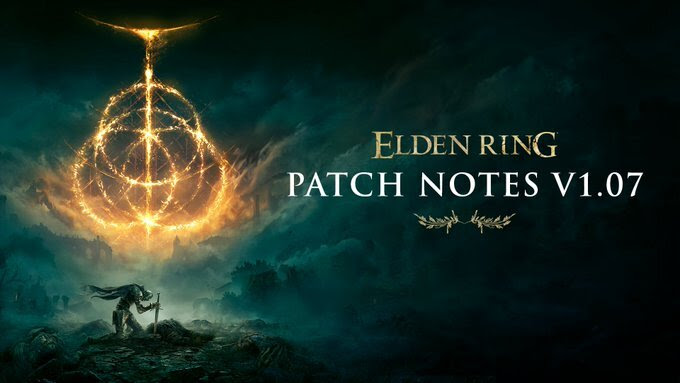 Targeted Platform
PlayStation 4 / PlayStation 5 / Xbox One / Xbox Series X|S / Steam
Major Changes Included in the Latest Update:
Additional Features 
Added separate damage scaling for PvP.
This feature allows separate damage scaling for Weapons, Skills, Spells, and Incantations when playing against other players. 
In the future, this feature may be used to balance weapons, skills, spells and incantations in Player versus Player settings. 
Balance adjustments made within this feature will not impact single-player and cooperative play. 
We've also made some Bug Fixes, as well as several Balance Adjustments. 
For the full update, please refer to our website here.
The version number of this update shown at the lower right corner of the Title Screen will be as follows:
App Ver. 1.07

Regulation Ver. 1.07
Online play requires the player to apply this update.
We will continue to provide improvement update in the future so you can enjoy ELDEN RING™  more comfortably. You may also join the Official Discord server for additional updates and to connect with the ELDEN RING community. Please stay tuned for more news.
For more information on ELDEN RING™ and other Bandai Namco Entertainment Asia products, please visit our website or follow us on Facebook, Instagram, Twitter and YouTube.
Game Information
Title: ELDEN RING
Platform: PS4, PS5, XB1, XB X|S, PC
Release Date: 25 February 2022
Genre: Action-RPG
Player: 1-4
Copyright: ELDEN RING™& ©Bandai Namco Entertainment Inc. / ©2022 FromSoftware, Inc.
All other trademarks are properties of their respective owners.
About Bandai Namco Entertainment Asia Pte Ltd.
Bandai Namco Entertainment Asia Pte Ltd. part of Bandai Namco Holdings Inc., is a leading global publisher and developer of interactive content. The company is known for creating and publishing many of the industry's top video game franchises, including PAC-MAN®, TEKKEN®, SOULCALIBUR®, NARUTO®, NARUTO SHIPPUDEN®, Dragon Ball®, GALAGA®, RIDGE RACER® and ACE COMBAT®. More information about the company and its products can be found at http://www.bandainamcoent.asia.
Nmia Gaming – Editor | Rein