The gaming world is on the brink of a revolution as  ASUS Republic of Gamers (ROG) proudly announces its dynamic partnership with MOONTON Games,  setting the stage for the ROG Phone 6 to be the official tournament device of the highly anticipated  Mobile Legends: Bang Bang (MLBB) M5 World Championship 2023. Renowned for its world-beating  performance and cutting-edge features, the ROG Phone 6 has undergone rigorous testing by both  MOONTON Games and ROG to prove its worthiness for the prestigious international MLBB tournament,  featuring a staggering prize pool of US$ 900,000. 
"At ROG, we are committed to pushing the boundaries of gaming technology. Partnering with MOONTON  Games to make the ROG Phone 6 the official device for MLBB M5 2023 is a testament to our dedication to providing gamers with the ultimate gaming experience," said Lenny Lin, Business Development  Manager, ASUS Malaysia. "The ROG Phone 6 is designed to deliver unparalleled performance, and we  are excited to see it in action at the world championship." 
"This partnership between MOONTON Games and ASUS ROG for the MLBB M5 World Championship  2023 unites our industry-leading expertise in mobile gaming and technology," said Adrian Cher, Head of  Regional Esports Sales, MOONTON Games. "The ROG Phone 6 more than meets the demanding  standards of professional gamers and reaffirms our commitment to deliver best-in-class MLBB esports  experiences for our community." 
The ROG Phone 6 will make its grand entrance into the professional MLBB scene in M5 Wild Card, taking  place from 23 to 26 November at JIO Space, Kuala Lumpur. Professional players from all corners of the  globe will have the privilege of competing on the ROG Phone 6 to earn their coveted ticket to progress to  the Group Stage of MLBB M5 World Championship 2023. This event will not only put players' skills to the  test, but also demonstrate the ROG Phone 6's ability to deliver sustained performance under the intense  demands of professional gaming. 
Aside from making its debut on the grand stage of M5 Wild Card, the ROG Phone 6 MLBB M5 Special  Edition will be available for all MLBB fans to experience at the event as well. Fans who want to show off  their skills can also participate in the Wild Card 1v1 Fan Cup to stand a chance to win the ROG Phone 6  MLBB M5 Special Edition, as well as other cool prizes sponsored by ROG and Hotlink.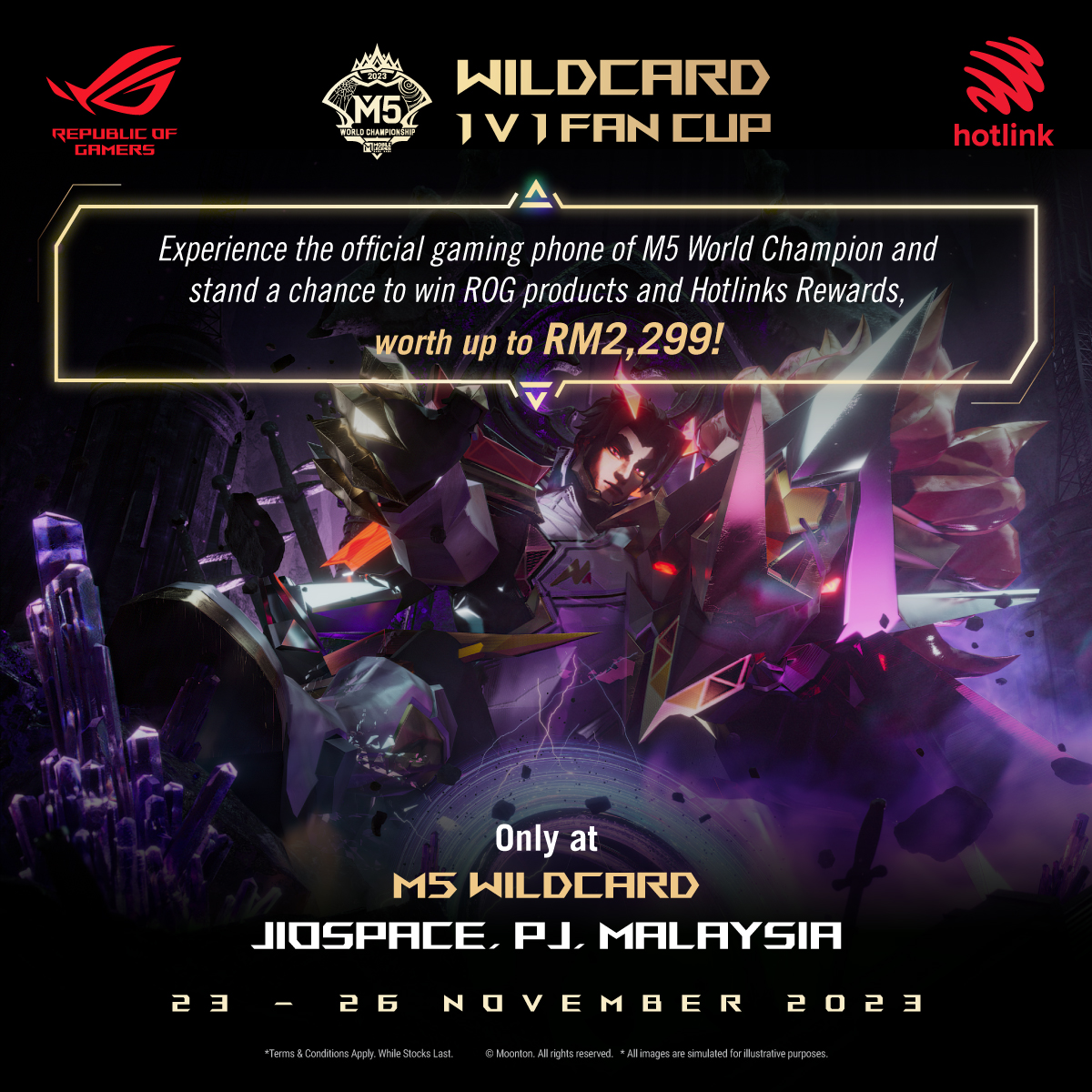 The ROG Phone 6 MLBB M5 Special Edition bundle was unveiled on 12 September to celebrate the partnership between ROG and MOONTON Games. This exclusive bundle comprises a special MLBB themed ROG Phone 6 and an exclusive gift box valued at RM 788, which includes a Yu Zhong Devilcase,  an MLBB badge holder, an MLBB screen cleaning cloth, and an AeroActive Cooler 6, offering fans of the  game an extraordinary and immersive experience. 
The ROG Phone 6 MLBB M5 Special Edition bundle is offered at an attractive price of just RM 2,299. Exclusively during the event, MLBB fans attending the event can also get an instant rebate of RM200 on  the ROG Phone 6 MLBB Special Edition, making the only gaming phone that is designed by gamers,  proven by pros, more accessible than ever. 
Stay tuned for more exciting updates as the ROG Phone 6 takes center stage in the world of MLBB  esports.
NOTES FOR EDITORS 
Product Page: https://rog.asus.com/my/phones/rog-phone-6-model/
ROG Malaysia Facebook: https://www.facebook.com/asusrogmalaysia
ROG Malaysia Instagram: https://www.instagram.com/asusrogmalaysia/
Where to Buy: https://www.asus.com/my/asus_website_information/where-to-buy/ 
MLBB official social media platforms: 
YouTube MLBB Esports: https://www.youtube.com/c/MLBBeSports 
MLBB Global: https://www.youtube.com/c/MobileLegends5v5MOBA
MLBB-Malaysia: https://www.youtube.com/channel/UC_6aI67MD3l7uIY4CsqvfpQ/videos 
Facebook MLBB-Global: https://www.facebook.com/mobilelegendsgame 
MLBB-Esports: https://www.facebook.com/MLESPORTS 
MLBB-Malaysia: https://www.facebook.com/MobileLegendsGameMalaysia MPL-Malaysia: https://www.facebook.com/mplmy.official/ 
TikTok 
MLBB-Global: https://www.tiktok.com/@mlbbttofficial 
MLBB-Esports: https://www.tiktok.com/@mlbbesports_official 
MLBB-Malaysia: https://www.tiktok.com/@mobilelegendsmy 
MPL-Malaysia: https://www.tiktok.com/@mplmy
About ROG 
Republic of Gamers (ROG) is an ASUS sub-brand dedicated to creating the world's best gaming  hardware and software. Formed in 2006, ROG offers a complete line of innovative products known for  performance and quality, including motherboards, graphics cards, system components, laptops,  desktops, monitors, smartphones, audio equipment, routers, peripherals and accessories. ROG  participates in and sponsors major international gaming events. ROG gear has been used to set  hundreds of overclocking records and it continues to be the preferred choice of gamers and enthusiasts  around the world. To become one of those who dare, learn more about ROG at http://rog.asus.com. 
About MOONTON Games 
Established in 2014, MOONTON is a global video game company dedicated to gaming development,  publication, and esports. With more than 1500 employees worldwide, the company operates offices in  Indonesia, Malaysia, Singapore, Philippines, Latin America, Hong Kong and mainland China. It has  successfully launched a number of high-profile mobile games globally and has built long-term  relationships with governments and esports organisations in more than 30 countries around the world.  Mobile Legends: Bang Bang is its current star game and the leading mobile multiplayer online battle  arena (MOBA) game worldwide. 
About Mobile Legends: Bang Bang 
Mobile Legends: Bang Bang is the most popular mobile Multiplayer Online Battle Arena (MOBA) game  worldwide that brings communities together through teamwork and strategy. With over one billion  installations and 100 million active monthly users, the award-winning game is among the top 10 most  played in over 80 countries. With an extensive reach across the Asia Pacific region, the multiplayer is  available in 139 countries with an expansive global esports presence. 
About Mobile Legends Esports 
Established in 2017, Mobile Legends: Bang Bang Esports serves as a platform for players to pursue their  dreams of becoming esports athletes and illuminate opportunities within the international esports  ecosystem. MLBB Esports has since expanded to multiple leagues, including the MPL series hosted in  Southeast Asia, Middle East, and Latin America.