Operation Brutal Swarm arrives on September 6 with Singaporean Operator, Stadium Map, gameplay improvements, and more
 Today, Ubisoft announced that Operation Brutal Swarm, the third season of Rainbow Six Siege's Year 7, will arrive on September 6. This season introduces Grim, a new Singaporean Operator, an additional map, Phase 2 of the new Reputation System bringing chat sanctions, match replay reporting, and more gameplay improvements.
Rainbow Six Siege: Year 7 Season 3 Operation Brutal Swarm Reveal Panel
In Operation Brutal Swarm, comb the site for intel with new Attacker Grim, a master of survival and reconnaissance from Singapore with military experience in stealth, security, and intelligence. His Kawan Hive Launcher System gadget fires a projectile that deploys a canister on the floor and releases a swarm of bee bots into the air. Defenders that pass through the swarm area have their location revealed by a ping. Even after leaving the swarm area, Defenders will continue to be pinged until the bee bots run out of battery. Grim is a high speed, low health Operator, equipped with a 552 Commando or SG-CQB as a primary weapon and a P229 as a secondary weapon.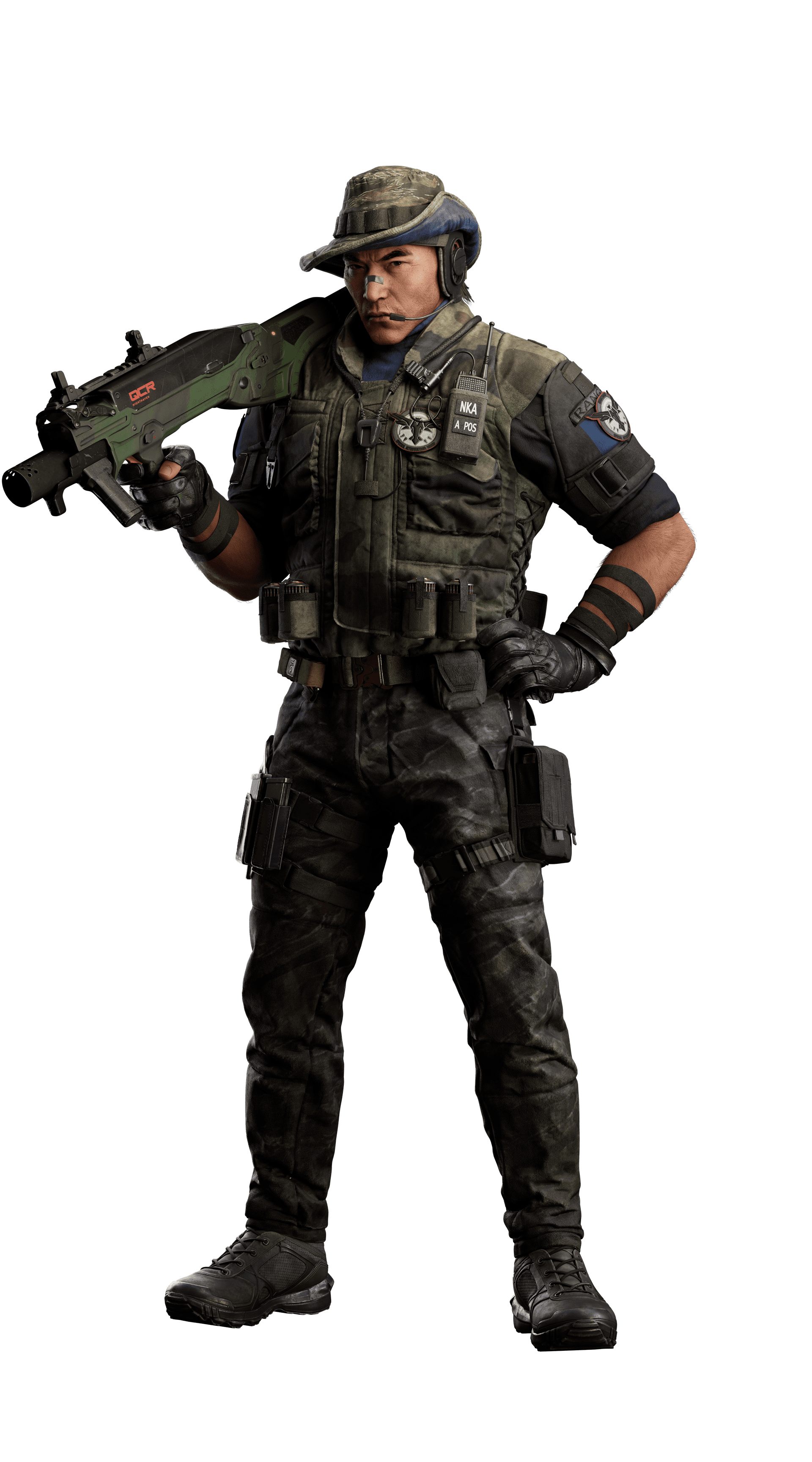 Alongside Grim, Stadium, a fan-favorite map, arrives at season launch as a permanent map. Featured during the Road to S.I. event, the map returns under a new name, Stadium Bravo, and gets added to the map pool in Y7S3. Utilizing elements from other maps and indestructible bulletproof glass, this map challenges both teams to develop new strategies due to the map's unique layout.
Recent major balancing changes announced, including tweaks to Finka and LMGs, are delivered in Y7S3. Players can also look forward to changes like the addition of impact EMP grenades to some Operators' loadouts. Other changes include more weapon attachment options for players to choose from. Additionally, the recoil system has been overhauled with each weapon's recoil adjusted, and recoil intensity increasing during sustained bursts. The recoil overhaul is exclusive to PC, with console players now having dedicated recoil updated for controllers. 
Further balance updates for Dokkaebi and Rook are slated for mid-season. Dokkaebi's Logic Bomb now affects eliminated players, and Rook's armor plates now grant Operators the Withstand ability if they are wearing them. Withstand allows Operators to self-revive with 20 health if they fall into the Down But Not Out state. 
Gameplay updates for this season include changes to the Map Ban phase to display five maps instead of three, increasing map diversity while maintaining player agency for removing maps from the pool. The Tactical Map has also been updated to provide Attackers with more information to help them during the preparation phase. Attackers can now see a list of available Defender objective locations, with the floor map and objective locations displayed when discovered by the Attacking team.  
In addition, the ability for players to report suspected cheaters is coming to the Match Replay viewer. Players can review footage from their latest games and report suspected cheaters while viewing their gameplay. This feature continues Ubisoft's continual commitment to detecting and banning cheaters to create a fair environment for all players. 
Phase 2 of the Reputation System launches later in the season to continue addressing player behavior improvements. This update introduces a new penalty for abusive text chat. While active, this penalty mutes repeat offenders by default to prevent hateful and abusive content in text chat. Muted players can still send and receive messages, but their messages will only be seen by players who choose to unmute them. There will be a short grace period after launch for players to adapt to the new system. After the grace period, players who are found to have sent too many hateful or abusive messages will get an active penalty for 30 matches. 
Building on the introduction of Wolfguard in Year 7 Season 2, Operation Brutal Swarm gives the spotlight to another faction: Nighthaven. Career soldiers might view the Private Military Company as opportunistic and hostile, but that's because its agents are very protective of it. Their services have a price tag, so Nighthaven often works for the highest bidder. This lets the company afford the finest military technology and weaponry, which can be an attractive proposition for Rainbow Six operatives. Finka, Pulse, Ela, IQ and Smoke made the choice to leave Rainbow for Nighthaven, joining Kali, Wamai, Aruni, Ace, Osa and their chief of security, Grim.
Finally, players who own a current Battle Pass will receive a 10% discount off all items in the shop. This perk is available for future Battle Passes as well. With the new Buy For A Friend Battle Pass Program, players will be able to purchase premium Battle Passes for others who don't own one.  
Rainbow Six Siege is now available to play on PlayStation®4, PlayStation®5, the Xbox One family of consoles, Xbox Series X | S, Windows PC, including on Ubisoft+, Ubisoft's subscription service.
For more information about Rainbow Six Siege, please visit: https://rainbow6.ubisoft.com.   
About Tom Clancy's Rainbow Six Siege  
Alongside a thriving professional esports scene and a community of over 80 million registered players, Tom Clancy's Rainbow Six Siege puts players in the middle of a fast-paced, ever-evolving multiplayer experience grounded in the selection of unique Operators. Using the right mix of tactics and destruction, Rainbow Six teams engage their enemies in sieges, where both sides have exclusive skills and gadgets at their disposal. Defenders prepare by transforming the environments around them into modern strongholds, while attackers use recon drones to gain intel for carefully planning their assault. With access to dozens of Operators inspired by real world counter-intelligence agents from around the globe, players can choose exactly how they want to approach each challenge they encounter. Through the constant addition of new Operators and maps that add to the depth of both strategy and combat, the unpredictability of each round of Rainbow Six Siege sets a new bar for intensity and competition in gaming. 
About Ubisoft 
Ubisoft is a creator of worlds, committed to enriching players' lives with original and memorable entertainment experiences. Ubisoft's global teams create and develop a deep and diverse portfolio of games, featuring brands such as Assassin's Creed®, Brawlhalla®, For Honor®, Far Cry®, Tom Clancy's Ghost Recon®, Just Dance®, Rabbids, Tom Clancy's Rainbow Six®, The Crew®, Tom Clancy's The Division®, and Watch Dogs®. Through Ubisoft Connect, players can enjoy an ecosystem of services to enhance their gaming experience, get rewards and connect with friends across platforms. With Ubisoft+, the subscription service, they can access a growing catalog of more than 100 Ubisoft games and DLC. For the 2021–22 fiscal year, Ubisoft generated net bookings of €2,129 million. To learn more, please visit: www.ubisoftgroup.com.
© 2022 Ubisoft Entertainment. All Rights Reserved. Tom Clancy's, Rainbow Six, the Soldier Icon, Ubisoft, and the Ubisoft logo are registered or unregistered trademarks of Ubisoft Entertainment in the US and/or other countries.
Nmia Gaming – Editor | Rein