Now on PlayStation and Xbox Consoles, PC; Base Game Free on PS5 via PlayStation Plus CALABASAS, Calif. — Mar. 3, 2022 — Publishers 505 Games, alongside developers and partners One More Level, All In! Games, 3D Realms, and Slipgate Ironworks™, today launch Project_Hel, a prequel DLC for the million-selling first-person cyberpunk action game Ghostrunner. Return to the dystopian Dharma Tower as a brutally powerful antihero in a new campaign for S$17.99 / ₫233000 / ₱ 587.95 / Rp 188999 / RM 59 / ฿ 409 across console and PC platforms globally. Stay tuned to Ghostrunner's official Twitter channel for updates on the Nintendo Switch version's upcoming release.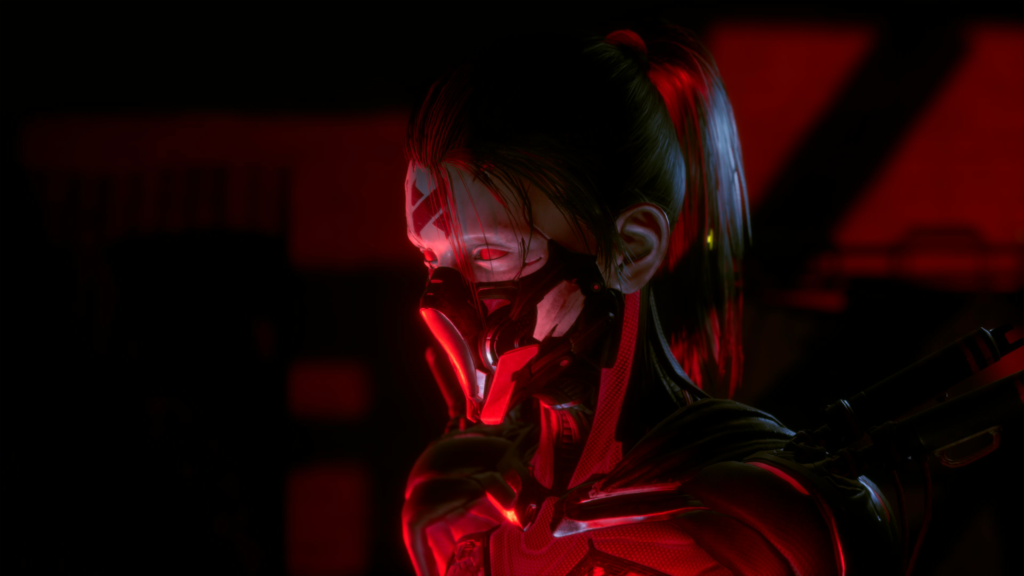 Just prior to the events of the original Ghostrunner storyline, a combat android known as Hel begins her own violent mission: quelling a rebellion at the base of the tower-city. Yet Hel's true motivation takes root in hatred toward the creators keeping her chained between assignments. Internal programming keeps her from slaughtering them outright, so she begrudgingly follows orders while looking for loopholes to disrupt her creators' grand plans. Unlike regular Ghostrunners, Hel contains no biological parts, instead driven by a cobbled- together AI rendering her unstable, impulsive, and angry. These traits manifest in Project_Hel's new Rage bar. Fill it up by killing enemies to gain abilities injecting fresh blood into Ghostrunner's one-hit-one-kill combat. Reject death with the attack-negating Shield, bypass enemy defenses with Unblockable strikes, and strike from afar with devastating energy Surges. Instead of using a Gap Jammer grappling hook like original protagonist Jack, Hel's powerful Super Jump provides aggressive movement capabilities both for traversal and combat. She can also air dash significantly further and use a Sensory Boost to quickly visualize their trajectory.
These differences give Hel her own feel and style appealing to Ghostrunner veterans and newcomers alike. Upgrade her capabilities even further with a revamped progression system. Face off against new challengers, including four enemy types and two bosses.
Carve through the seven imaginative levels while mastering Hel's intricacies and rebelling against her creators. Ascend the neon cityscapes to the tune of additional tracks from electronic artist Daniel Deluxe. Uncover more context in this action-packed prequel story by gathering hidden collectibles. Learn how Hel rises to become one of the toughest bosses in the original Ghostrunner plot. Project_Hel is available now on PlayStation 5, PlayStation 4, Xbox Series X|S, Xbox One, and PC via Steam, the Epic Games Store, and GOG. The Nintendo Switch version will launch in the near future. The Ghostrunner base game is available on PlayStation 5, PlayStation 4, Xbox Series X|S, Xbox One, Nintendo Switch, Amazon Luna, and PC via Steam, the Epic Games Store, and GOG. Throughout March, Ghostrunner on PlayStation 5 will be free for PlayStation Plus members. Ghostrunner is published by H2 Interactive for Nintendo Switch and PlayStation in Asia, release date of PS4 and PS5 in Asia is March 4th, while that of Nintendo Switch to be communicated by H2. For more information about Ghostrunner, including full language support, visit the official website.
About 505 Games
505 Games, a Digital Bros' subsidiary, is a global publisher focused on offering a broad selection of video games for players of all ages and skill levels. The company publishes and distributes premium and free-to-play games on console and PC platforms as well as mobile devices.
Publishing highlights include DEATH STRANDING (PC), Control, Assetto Corsa Competizione, Ghostrunner, Gems of War, Journey to the Savage Planet, Bloodstained: Ritual of the Night, and Brothers: A Tale of Two Sons. 505 Games has offices in the United States, United Kingdom, France, Germany, Italy, Spain, Australia, China and Japan. For more information on 505 Games and its products please visit 505games.com.
About All in! Games
All in! Games is a publicly traded video game publishing and production house based in Krakow, Poland. Founded in 2018, the team creates and supports local and international games for PC and consoles. All in! Games' portfolio features titles such as Chernobylite (The Farm 51), Paradise Lost (PolyAmorous), Alaloth: Champions of The Four Kingdoms (Gamera Interactive), Tools Up! (The Knights of Unity), and many more. For more information on All in! Games, please visit the official company website.
About One More Level
OML was founded by industry veterans with the express purpose of creating games they would love to play themselves. Self-proclaimed hardcore gamers, OML aims to create games that are rich and engaging crave "One More Level." For more information on OML, please visit the official company website.
About 3D Realms Founded 30 years ago, 3D Realms was the publisher, developer and creator of many legendary gaming franchises, most still going strong: Wolfenstein 3D, Duke Nukem, Shadow Warrior, Max Payne and Prey. Today, they publish and develop games including WRATH: Aeon of Ruin and Ion Fury. To learn more about 3D Realms please visit the studio's official website.
About Slipgate Ironworks™
Comprised of industry veterans with two decades worth of indie and AAA experience, Slipgate Ironworks™ has contributed to popular titles including Ion Fury, Daymare: 1998, Ancestor's Legacy, and most recently, WRATH: Aeon of Ruin. Proudly old-school, the team all shares the same vision: "We only work on games we'd play ourselves." For more information on Slipgate Ironworks™, please visit the official company website.
Nmia Gaming – Editor Nmia
We are a team of enthusiastic gamers, who provide the latest news on any games.